Milwaukee, Wisconsin animal equipment and enrichment company Otto Environmental launched its Zoo Wish List Program. This allows zoos to specify items they need, which can then be purchased by interested parties.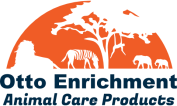 Greenfield, United States - June 25, 2019 /NewsNetwork/ —
Otto Environmental, an animal equipment and enrichment company based in Milwaukee, Wisconsin, announced their zoo donation program through their Otto Enrichment website. The Otto Enrichment Wish List Program allows zoos and animal sanctuaries to create personalized wish lists and encourage individuals to make a valuable contribution to their favorite zoological attractions by purchasing those items and having them sent directly to the zoo on their behalf.
More information can be found at https://www.ottoenrichment.com/zoo-wishlists.
Summer is an ideal season for families to visit zoos and animal sanctuaries – and with the new Otto Enrichment donation program, anyone can now support their favorite attractions by contributing much-needed animal enrichment products.
The company's new program currently features more than twenty zoos, animal sanctuaries, and conservation centers in Wisconsin, Texas, Florida, Utah, and other states, each of which have created their own wish lists of animal equipment and enrichment products.
Individuals who would like to donate can click on the zoo's wish list and purchase one or more of the items on the list. Otto Environmental ships the items directly to the zoo or sanctuary specified by the customer.
The program is an ideal opportunity for anyone to make a valuable contribution to responsible zoos and sanctuaries throughout the United States, and it aims to strengthen the relationship between animal conservation organizations and local communities.
A spokesperson for Otto Environmental said: "Our aim is to improve the lives of animals and those who care for them. For more than 20 years our team at Otto Environmental has been finding and even creating some of the best animal enrichment and equipment products available. Our customers come from all over the United States to shop our online store and are typically professionals who care for animals on a daily basis."
The company's online store offers a wide selection of animal equipment and enrichment products for zoos and sanctuaries, as well as private pet owners.
Interested parties can find more information by visiting the above-mentioned website.
Contact Info:
Name: Jeff Otto
Email: Send Email
Organization: Otto Environmental
Address: 11015 W Layton Ave Suite A, Greenfield, WI 53228, United States
Phone: +1-414-529-7780
Website: https://www.ottoenvironmental.com
Source: NewsNetwork
Release ID: 88889141